Red Rocks Locksmith takes pride in our quick and fast service to unlock any type of vehicle, and get you where you need to go in the blink of an eye.
With multiple locations and expert locksmith car key services throughout Boulder & The Entire Denver Metro Area, you are just moments away from getting you back into your vehicle and on your way as quickly as possible.
We Work With All Makes, Models, & Years of Vehicles
We Have Trained Specialists In Your Area Right Now
We're On Our Way to You As Soon as You Call
Whether you are locked out of your office, building, retail store, or storage/warehouse facility; Red Rocks Locksmith has the tools and ability to get you back into your commercial establishment right away.
Our expert and professional services take pride in our ability to get the job done, whatever it is you may need. As business owners, we value speed, efficiency (Getting the job done right the first time), and professionalism.
If your car keys are lost and you don't want to spend weeks waiting for a manufacturer replacement, Red Rocks Locksmith car key services provide you immediate relief to get a replacement car key so you can get on the road again.
We service all makes, models, and years of vehicles regardless if your key has a smart chip built into it or not.
Do you want to create copies of your car key for yourself, your spouse, or another family member?
Perhaps you purchased a used vehicle with only one key that came with it.
To stay prepared and sure that you always have a backup, we have the systems and systems to duplicate any type of key, as well as the ability to program keys that require programming.
Are you looking to change and/or install new locks in your home or office? Call us right now to schedule same day service and we will install brand new locks to fit your needs.
Perhaps you don't want or need to replace existing locks.
If you would like to rekey a set of locks that is already installed, call the phone number below or request a callback today to speak with a trained specialist to see how we can help.
Additional Locksmith Services
Exit Device Installation & Service
Office Lockouts
Alarm Systems
Security Cameras
Check Out Our 5-Stars Reviews
"Oren was so professional and positive! Never fun to be locked out of your house, but he changed my lock effectively and was very kind throughout the process. Would definitely recommend this locksmith"
"Oren was fantastic. He was here when he said he would be, and he was calm and collected. And FAST! Highly recommend. My puppies (who were locked in the car) and I thank him."
"Ryan absolutely gives the best service I've ever seen in a locksmith. He was courteous and laid back. Really went out of his way to help out."
"Ryan was punctual and talented. He jimmied my door in just a few minutes without damage. I appreciate him for helping me get back into my home in a timely fashion. Great locksmith overall."
"Oren was punctual, professional, polite, worked quickly, and was very helpful. He was able to make a key on site to a door we've never had a key for. I would highly recommend using Oren at Red Rocks Locksmith."




Request a Callback
We will call you back within 20 minutes
"*" indicates required fields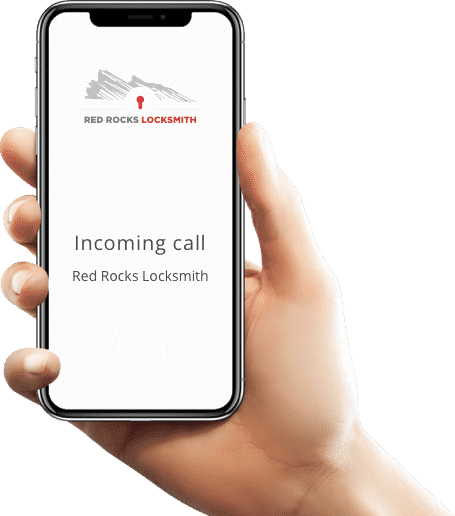 Frequently Asked Questions
Do I need to have my ID/Title for car lockouts/new car keys?
Yes. We need to verify you have a legal claim to the vehicle in order for us to help you regain access or create a new car key. However, if the car is not yours, you can obtain the necessary proof/documents and approval from the rightful owner in order to provide you with the service.
Will you need to drill my lock to help me get back into the house?
In 85% of the cases, we are able to help you regain access to your home without needing to drill/destroy the lock. However, some locks security settings, as well as mechanical state require that we drill them in order to let you back in to your home. Our technician will be able to advise once on premise.
Are you able to make replacement car keys on the spot?
Yes. We are able to make replacement car keys for 90% of the cars on the market, including high security, laser cut and transponder (chip) keys. Give us a call to find out if we can make a car key for your car.
Any other question?
Need Help?
How to Get Started?
Whether you're locked out of your car, home, or office; we are fully equipped, have staff on-site, and are trained to handle any job no matter how routine or complicated.
Call us at (303) 495 7579
Tell us your location and what you need help with
One of our trained locksmiths will be there right away