Key Card Door Access: The Basics
Chances are that you've used key cards and a multitude of other types of electronic access systems before. Whether they were in the form of electronic hotel keys, ID cards with implanted chips, special electronic badges, or a simple access fob for building entry, modern key card door access methods are sophisticated, safe, and convenient for owners and users.
The truth is that fob access control, key cards and many other kinds of electronic entry are among the most common, and most secure, systems on the market today. The variety of methods is one of the main advantages for owners. That's because you can choose among key fob reader systems, swipe locks, key card access systems, and more.
Red Rocks Locksmith has offices in California (Fremont) and all over the Colorado area to serve you, including cities are surrounding communities of Denver, Englewood, Boulder, Arvada, and Evergreen. When you need fob access control, swipe locks, electronic key systems, or similar security services for your office or commercial building, Red Rocks is ready to go.
Key Fobs & Key Cards: The Types
Red Rocks Locksmith can install any type of key card or key fob system for business owners, and we work from several locations, including our Fremont, California office, as well as four locations in Colorado, namely the cities of Evergreen, Arvada, Boulder, and Englewood.
Wiegand: These systems have been around for nearly 50 years. They use a non-chip card that contains binary information that is permanently embedded into the plastic. Though a bit outdated, some prefer the Wiegand card for its durability and simplicity.
Swipe: If you have ever swiped your credit card at a retail store, you've used this kind of system. The plastic strip on the card holds unique data that is recognized by a magnetic reader. They're inexpensive and convenient for users and are great if you like to have an audit trail of users and the times that people gained access to a particular space.
RFID Fobs & Cards, and Proximity Cards: These sophisticated cards need only be near a reader for the machine to recognize them. Plus, they can be enabled with specific time-duration access so that authorization is declined during certain hours. They are highly secure and can be set up to work as a dual-access verification method with a standard key card/fob system.
Door Lock Systems With Electronic Key Fob & Key Card
There are several kinds of lock mechanisms and readers to choose from, based on your company's unique needs. It always makes sense to enhance your overall security with door locks that open with commercial key cards, typically called "smart-locks." Here's a little bit more about four of the main types that are most popular among business owners:
Wireless Locks: Although they rely on a combination of batteries and a secure WiFi connection for entrance, wireless systems are quite popular with many commercial owners. However, if your location has access to a wired power source, it's usually more reliable to use one of the other types of entry systems.

Biometric Readers: For the ultimate in security, biometric scanners can use a person's eye, fingerprint, or face to allow or deny access. Of course, many companies choose to use both key fob/card systems alongside biometric one for a two-tiered, or dual-factor authentication for maximum office security.

PIN and Keypad Readers: You've probably encountered these sophisticated mechanisms before. They require no fob or card. The entrant just types in a PIN or other type of access code onto a pad. Most owners re-set the access PIN daily or at other intervals to maintain security. Additionally, you can set up these pad systems to work in conjunction with key cards/fobs.

RFID Proximity: Extremely convenient and secure, this type of system uses an electronic RFID reader to view the person's credentials, card, fob, or other document. They're highly secure but offer speed and convenience for secure access to IT locations, inventory storage facilities, or standard offices.
Whichever of the main kinds of electronic access control systems you prefer, Red Rocks Locksmith can help you set it up and begin using it in a matter of a few hours.
Key Card Access: The Benefits
In truth, there are dozens of advantages to key card and fob systems, but the two best-known ones are convenience for employees and security for owners. Electronic cards are far more secure than traditional keys because they can be de-activated at any time.
That means former employees can't gain access to your property, nor can anyone with a de-activated card. The huge benefit, of course, is that you don't have to re-key or replace all your locks.
Here are some of the other benefits of key card and electronic fob systems:
Cost: Key card systems are affordable and can be set up quickly.

Maintenance: There's little to no maintenance for card systems

Replacement: When cards are stolen, misplaced, damaged, or lost, you can simply reconfigure the cards based on employee credentials.

Uniqueness: Every card can be unique to the employee who holds it. You can set access levels however you want based each employee's level of security clearance.

Ease-of-Use: Workers need no special training to use the cards or fobs once the system if fully set up. And, cards fit easily into wallets and pockets, unlike bulky keys and key-chains.

Versatility: Cards and fobs can be used for individual office doors, file cabinets, secure rooms, storage facilities, inventory warehouses, office complex gates, designated parking garages, and more.

Response: Because you can track electronic key-card use, security incidents are more easily investigated and resolved. That's because you can easily discover which employees used their ID to access a door, gate, or other secure location, and know the time of day when they entered.
If you're new to key card access, a fob access system, and similar enhanced-security systems, Red Rocks has what you need. And, our Fremont, California office or one of our four Colorado offices is ready to serve you.
Access Control System Upgrades
What if you already have a fob access system or complex access control system and want to upgrade? Red Rocks Locksmith can help you take that extra step into a more secure future. How? In addition to key fob systems, electric key fobs, and all-around, versatile fob access systems for commercial businesses, we can help you upgrade to a smartphone-enabled system.
The beauty of this kind of upgrade is that you don't have to change the system you already have in place. You're just adding a layer of security to your present key card/fob entry system. Here's how it works.
The cloud-based smartphone arrangement is cutting-edge technology. You're actually getting the best of two separate security systems because they're inter-operable and fully flexible. That means they can be configured however you prefer.
For example, you can unlock doors with an app on any mobile device you choose, as long as you've installed the app beforehand. You can even use the app to enable customized key cards, and as many fobs as you need.
All the identifiers in the cryptographic cards are signed digitally, which makes them virtually impossible to copy or duplicate. For you, that spells super-enhanced protection.
You can even integrate all your security apps and tools via an open-platform API, which includes the latest surveillance-enabled software, RFID cards, and other sophisticated techniques and tools.
When you have Red Rocks Locksmith upgrade your existing key card/fob system, you get the very best in security, reliability, as well as a fully scalable, inter-operative system. And, it all integrates seamlessly and simply with your current access system.
Why Choose Red Rocks Locksmith?
When you realize it's time to upgrade your company's safety and security profile with commercial key fob door entry systems, give Red Rocks a call. We have offices conveniently located for our customers in California (with a headquarters in Fremont), and Colorado, with hubs in Arvada, Englewood, Boulder, and Evergreen. Besides the convenience of a top professional locksmith service in your location, why else should you choose Red Rocks?
For starters, we have a fully trained team of technicians who are available 24/7 all year long, even on holidays and in all kinds of adverse weather conditions. Plus, we offer a full menu of commercial locksmith services like lockout help, lock changes, re-keying on any kind of lock, fob access control, electronic key fobs, high security lock installation and service, key duplication, security safe access, and much more.
And if you want key fob and key card entry systems set up for one or one-hundred office locations, Red Rocks Locksmith can do the job quickly, efficiently, and affordably. Whether you need a single key fob reader, an access fob for building entry for a two-person office, or a complex set of electric key fobs for dozens of employees in multiple locations, the Red Rocks professionals have you covered.
Call us anytime, for more information, and we'll be glad to answer your questions.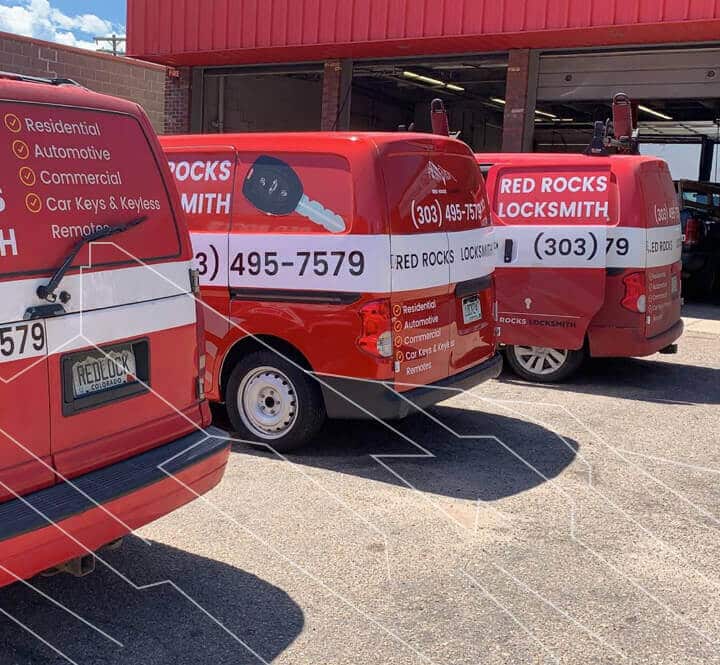 Do you need something more specific?
Request a Callback
We will call you back within 20 minutes
"*" indicates required fields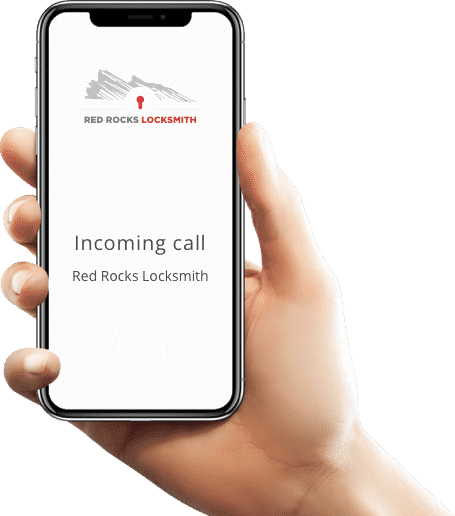 Frequently Asked Questions
What is access control?
As the name implies, it's a security system that allows property owners to set specific controls on the people who can gain entry to each part of a building. Typically, access control systems utilize sophisticated locks and various kinds of keys, including magnetic and biometric versions.
What is the main purpose of access control?
Owners who seek to protect their assets use access control. It's the best way to know that no unauthorized persons are able to enter places where they should not be. You don't want the janitorial staff to have access to the room where computer servers are stores, for example.
How does access control system work?
Each employee is given a key, access card, or can use biometric data as a form of access through designated entryways. In some systems, each worker has a plastic, magnetized card-key that only lets them enter areas where they need to be, and nowhere else. Other arrangements use iris or fingerprint readers to allow, or bar, certain workers from particular areas or rooms.
What is the best access control system?
The best system is the one that suits your company's needs. If you only have 10 employees, there's probably no need for iris-readers and high-tech smart locks on every door. That's why it's imperative to speak with the professionals at Red Rocks Locksmith to find out which systems are ideal for your company. There's no reason to pay too much for super-high-security devices when you only want or need a few magnetic cards and smart locks that can read them.
Any other question?
Need Help?
How to Get Started?
Whether you're locked out of your car, home, or office; we are fully equipped, have staff on-site, and are trained to handle any job no matter how routine or complicated.
Call us at (303) 495 7579
Tell us your location and what you need help with
One of our trained locksmiths will be there right away