Red Rocks Locksmith: Servicing the Needs of Business Owners and Managers
Small businesses are what makes America go. The existence of one small business after another is what keeps so many Americans employed so they can feed and house their families.
As a business owner or manager, you have a responsibility to protect the assets of your business because people are counting on you. To do that, you have to rely heavily on security features. That includes having to rely on your business' locks and keys to keep the business safe while also allowing you and your employees easy access into the facility and or offices. Commercial locksmith can help you with that and make your life easier.
Unfortunately, locks and keys aren't made to last forever. Locks can break or malfunction. Keys can break or easily get lost. When something happens to your business' locks or keys, the issue stands to interrupt the flow of your business which could result in lost revenue or customers. All of this also applies to your business' electronic security system and service vehicles.
How We Can Help
If and when something happens to your business locks or keys, there is little chance you are going to have the time or knowledge to deal with the problem. A far better solution would be to place a call to a reliable commercial locksmith like Red Rocks Locksmith. With our army of well-trained locksmith technicians, we can easily provide quality business locksmith services.
At Red Rocks Locksmith, we understand that time is money for your business. When business owners/managers like you call, we respond as quickly as possible. We do that because as a service business, we understand how important it is to get people back to work as fast as possible.
About Our Commercial Locksmith Services
As for our business locksmith services, we can provide a professional locksmith technician to address lock and keys issues for your business' facility or service vehicles. Here is a list of our services.
Facility Services
For the facility, our commercial locksmith services cover:
Commercial Vehicle Services
If you are running a service-oriented or delivery business, your commercial vehicles are important to the flow of your business cycle. Simply put, you can't afford to have downtime with your vehicles. As a full-service locksmith, Red Rocks Locksmith can also respond to issues related to your vehicle keys and locks. Our commercial car locksmith services include the following:
Unlock service for car door and trunks
Key replacement with or without the original vehicle key
Car key copy services for the purpose of making duplicate keys
Repair and replace car door locks
Repair and replace trunk locks
Repair and replace car/truck ignition systems
Testing and repair of electronic car security systems
Car key replacement and programming of key fob devices
Battery replacements for key fob devices
It is important to note we can provide commercial vehicle locksmith services for any year, make, and model of car or truck.
Why Choose Red Rocks Locksmith
Knowing that time is money, your business needs service providers that respond quickly and provide top-notch services. That is exactly what you get when you call us at Red Rocks Locksmith.
The secret to our success lies in our hiring process. We only hire the best locksmith candidates, those with the capacity to be the best in the business. Once aboard, all of our technicians get access to all of the training and tools they will need to handle any commercial locksmith job as fast and efficiently as possible.
After doing the job right, you will receive an invoice for our services. That invoice will represent prices that are competitive and absolutely affordable for your business.
Our Service Areas
If you go looking for the Red Rocks Locksmith brand, you will find that we have multiple locations in Colorado, California and recently branched out into the beautiful islands of Hawaii.
In Central California, we provide coverage in the following cities: Albany, Berkeley, Fremont, Hayward, Livermore, Milpitas, San Francisco, San Ramon, San Mateo, Palo Alto, Pleasanton, Walnut Creek, Sunnyvale, and San Jose.
In Colorado, we provide coverage in the following cities: Arvada, Boulder, Broomfield, Denver, Downtown Denver, North Denver, Englewood, Evergreen, Lafayette, Littleton, Longmont, Louisville, and Westminster.
In Hawaii, we are currently operating in Honolulu while looking at possible expansion in the future.
If you live near any of these cities, you can give us a call to see if we can service your area.
When you need a full-service locksmith, you want the best one in the area. That is always going to be Red Rocks Locksmith. With one call, you get help from a highly-trained locksmith technician who can handle any task, including car key replacement, fob programming/battery replacement, rekey and replace commercial locks, and much more.
FREQUENTLY ASKED QUESTIONS:
Can you tell us about your emergency commercial services?
At Red Rocks Locksmith, we tend to treat every call like an emergency. We know any delays can cost your business money. That's why our response times are the best in the region.
If keys are lost for one of our commercial vehicles, can we still get a key replacement?
Yes. With the vehicle's VIN number, we should be able to make a key. We will need vehicle ownership documentation before we proceed.
How much will it cost to replace an ignition system on our service vehicle?
The pricing will depend on the make/model/year of the vehicle and the availability of parts. What we can state is our prices are among the best in the area.
Do you need something more specific?
Request a Callback
We will call you back within 20 minutes
"*" indicates required fields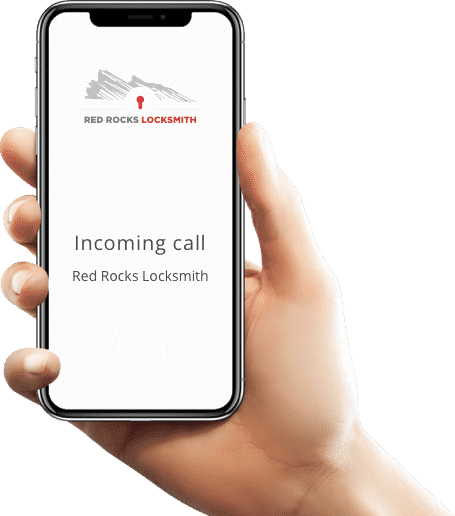 Need Help?
How to Get Started?
Whether you're locked out of your car, home, or office; we are fully equipped, have staff on-site, and are trained to handle any job no matter how routine or complicated.
Call us at (303) 495 7579
Tell us your location and what you need help with
One of our trained locksmiths will be there right away