Nissan Key
Replacement Services
Dating back to the Datsun brand of the late 1970s, Nissan Motor Corporation has been importing quality automobiles to the U.S. for almost five decades.
With millions of Nissan owners scattered all over the country, there will always be a need for quality automotive locksmith experts like Red Rocks Locksmith of Colorado.
If it hasn't happened yet, the day may come when your Nissan keys fail you. Be it you losing them or them breaking in your lock/ignition, the day may come when you need fast and efficient Nissan key replacement services. When that time does come, you want the best locksmith in the area: You want Red Rocks Locksmith.
No matter what make, model, and year of auto you own, we can provide a full range of automotive locksmith services. That includes Nissan locksmith services. Our list of car key services includes Nissan key replacement and duplication, Nissan key fob battery replacement and fob programming, lockout entry services, lock repairs/replacement, and ignition repairs/placement.
Features and characteristics of Nissan keys
The early model Datsun/Nissan models required traditional metal keys for entry and startup. Over the last two decades, most if not all late model Nissans have been operating based on the use of remote keyless entry devices (fob devices). Even more recently, keyless ignition devices have given way to keys altogether.
While Nissan has done a great job of making sure customers get access to state-of-the-art keys and fob devices, they haven't perfected any key system that is lost or damage-proof.
Our Nissan Key Replacement Services
When trouble arises with your Nissan keys, it will undoubtedly put you in an immediate bind. It's even possible it will create an emergency. There is no need to worry as long as you can reach out to us at Red Rocks Locksmith. We have physical locations in Boulder, Denver, Arvada, Evergreen, and serving areas in Littleton, Westminster, and other Colorado locations. We offer our full range of services in all our stores. We also have a physical store in Fremont, CA. In Honolulu, HI we offer locksmith services as a service-area business.
Upon receiving your call, one of our elite mobile units will be headed in your direction at your specified location. Upon arriving, a well-trained and courteous locksmith technician will address your needs. If you need a replacement key due to a broken or lost Nissan key, they will have the tools and key stock needed to address your needs. If it's simply a matter of providing you with key duplicates, they can do that as well with or without the original.
If your issue lies with your fob device, that's not a problem for our technicians. They have the knowledge and experience necessary to program any fob device. They also have access to a complete line of Nissan key fob battery replacements. They can handle these services while you wait.
We always treat our customer calls with a sense of urgency. Our goal is to resolve your Nissan key issue and get you back on the road in as little time as possible. Best of all, we take great pride in offering our services at prices that are fair, competitive, and affordable.
Other Nissan Key Replacement
Locksmith Services
As we indicated above, we are a full-service Nissan locksmith. Our locksmith technicians are trained to handle any automotive locksmith issue you can throw at them. Again, we can provide these services for any make, model, and year of car that's on the roads of Colorado today. Our services include:
Locked Out of Your Nissan?
All of us get caught up in the hustle and bustle of our busy lives. If you simply locked yourself out of the car, we have the tools we need to help you gain entry into your car or trunk in a matter of minutes.
Key Extraction
If your key gets jammed up in the door lock, trunk lock, or ignition, it's best not to risk forcing it and breaking the key. With a call to our dispatcher, one of our expert technicians can free that key in minutes.
Ignition Repair and Replacement
If issues arise with your car ignition, a trip to the dealership would be inconvenient and expensive. You'll be glad to know our team of locksmith technicians has the training and materials they need to repair or replace any Nissan ignition system.
Lock Repair and Replacement
Locks and locking systems are always subject to problems. If your keys work but the locks don't, our technicians have everything they need to address your lock problem with repairs or a replacement.
At Red Rocks Locksmith, we pride ourselves on having a great reputation for providing fast and efficient auto locksmith services. We strive to be the best because customers like you deserve the best from your service providers. At the end of the day, we want to be the only automotive locksmith you will ever need to call.
FAQ SECTION:
Q: Are you able to make replacement Nissan keys on the spot?
A: Yes. All of our mobile units are fully equipped with the machinery and materials needed to make a replacement or duplicate keys quickly and efficiently.
Q: What about replacing the Nissan key fob battery?
A: Not a problem. Given the popularity of fob device technology, we make sure our technicians are fully trained to program fob devices and quickly provide battery replacements.
Q: How much does it cost to replace Nissan keys?
A: The prices may vary based on the model and year of your Nissan. However, we can assure you our prices are competitive and affordable.
Q: How to choose the right locksmith?
A: The right one is the one who responds immediately to your call, quickly addresses your issue, and leaves you feeling satisfied with the way you were treated. That's why Red Rocks Locksmith is the right locksmith.




Request a Callback
We will call you back within 20 minutes
"*" indicates required fields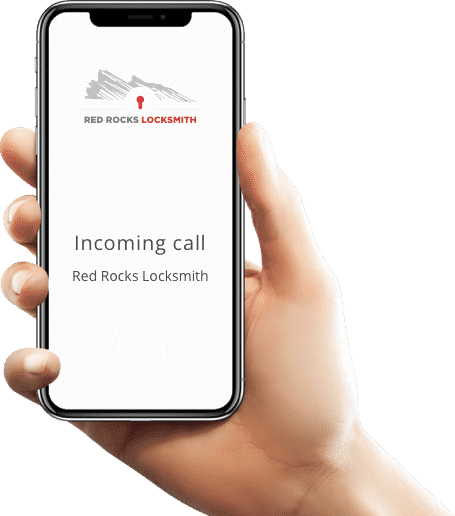 Need Help?
How to Get Started?
Whether you're locked out of your car, home, or office; we are fully equipped, have staff on-site, and are trained to handle any job no matter how routine or complicated.
Call us at (303) 495 7579
Tell us your location and what you need help with
One of our trained locksmiths will be there right away